QUICK TILE MORTAR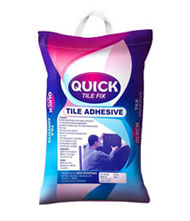 QUICK Tile Mortar is the high polymer modified cementations thin - set Tile Mortar designed for the installaton of cermaic tiles, procelain tile mosaic tile, wood tile, marble, granite and natural stone on the floor walls. excellent for exterior and under water application, superiror bond to exterior glue plywood and concrete.
Key Features
High polymer modified
Excellent for interior & exterior tile fixng
Good flexibility & proven performance
Superiror bonding
Improved impact resistance
Suitable Substrates
Cement mortar beds
Gypsum, wallboard & plywood
Cement plaster & Terrazzo floor
Tile up on Tile
Packing & Coverage
Packed in PPL Laminated Woven bags. 25 kgs QuIck Tile Adhsve-(QTA) will cover 50 to 60 Square feet with recommended thicness 3-4mm.
Colour: grey