JOINT FILLER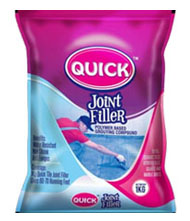 Stain free joint filler for tiles Professionals,single component, superior technology polymer based grouting compound for high resistance laying-with tracking technique or slurry key on fresh. used for all type of tiles, marbles large - format of paving slabs and stable natural stones.
Direction to use
Mix Quick fill wth water in the ration of 3 parts of grout and one part of water by volume. allow 15 minutes for maturing and remix once again before use to ensure homogenous of polymers.
Apply the paste in the joints firmly with hands or putty blade or sponge.
Remove the surplus grout with a wet cloth.
After joints are dry,Polish the tiles with a clean dry cloth.
One coat of Quick Tile fill with Ploymix RP3 is recommended for glossy surface.
After 24 hours of applications wet it wth water, two of three times to get more strength.
Packing : 1kg